One of my goals this year was to get better at exploring my hometown, Stockholm.
With five months into 2019, I have to say that I've been working hard with that goal and already found some new favorites – and one of them is Hammarbybacken.
Hammarbybacken is located on the south side of the city and is a big ski slope in the winter and a popular hill for interval training and bike riding during the summer. Hammarbybacken is one of those places I've said that I'm going to visit one day, and a Monday evening at 8 pm was apparently that day. I honestly get so annoyed at myself for not going there sooner, I mean, I climbed Northern Europes highest mountain before I climbed a less than 100 meters high hill 10 minutes away from my home. It's so easy to get narrow-minded when it comes to home.
Anyway, I walked from the subway station Hammarbyhöjden and started my walk up the hill. Either you can walk up the ski slope or you can follow a walkway which runs around the hill and isn't as steep. I choose the walkway and I don't think it took more than like 10 minutes to get to the top and the view was just AMAZING. I got there as the sun was setting and painted all of Stockholm pink and the only thing I could think about was that I have to bring a picnic basket and a couple of friends here and just have the best day ever!
Read more from Stockholm
25 things to do in Stockholm during winter – Mahalo – Gamla Orangeriet – Stockholm's Most Insta-Friendly Spots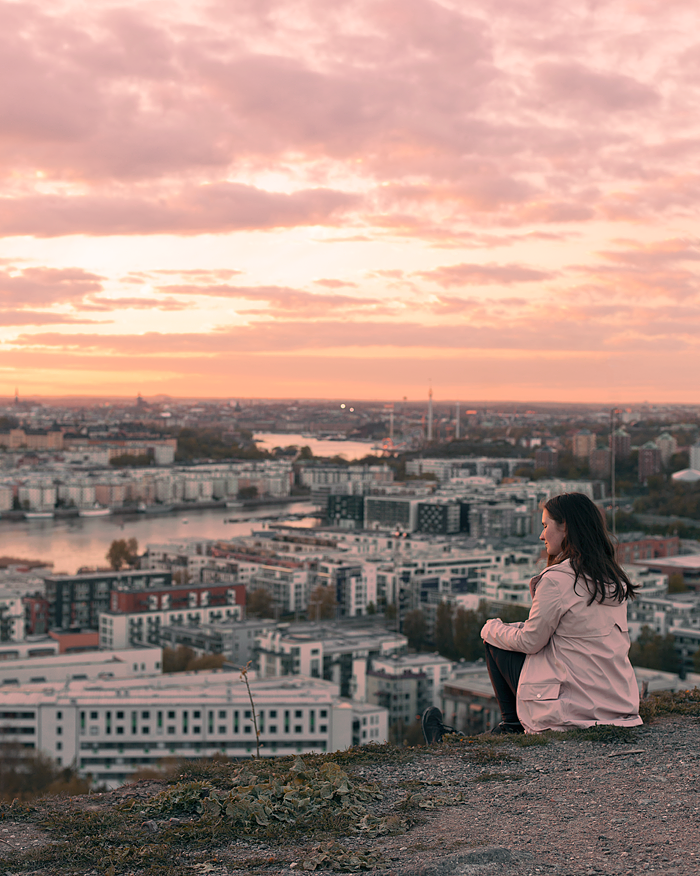 Quick facts about Hammarbybacken
Name: Hammarbybacken
Location: Hammarby Fabriksväg 111, 120 66 Stockholm
Available: All year round
Entrance fee: No entrance fee (You do have to pay to use the lift in the winter though)
Permits needed: No permits needed
Suitable for: the Thrill Seeker, the Explorer, the Independent Mass Tourist the Escapist and the Sport Tourist (click here to read more about the different traveler types)
Good to know: People love to ride their bikes down the hill so be careful if you step off the walkway.
My rating:
★★★★★/★★★★★