This post contains affiliate links
My photos means everything to me.
They are memories of things I've done, places I've seen and people I've met. Therefore, it's extremely important for me that all my photos are backed up. I've heard that one of the most common things people answer when they are asked the question "If you only could save one material thing if your house catches fire, what would that be?" is their photo albums, and that says a lot about how much photographs mean to people.
A computer can get stolen, a hard drive can crash and a building can burn down. Accidents happen all the time and that's why I'm writing this blog post about how I back up my photos.
● ● ● ● ●
The small external hard drive
This is the hard drive which I pretty much always have with me when I travel. I got this model*
which is small in size but big in capacity which is perfect since it doesn't take up much space or weight in the luggage. When I'm at home it's pretty much always plugged into my stationary computer so I'll always have access to my photos.
The big external hard drive
My second hard drive is a much bigger hard drive which I always keep at home. It's really old actually and has to have an electric outlet to work so this is only a back up I keep at home.
Network Attached Storage (NAS)
A NAS-server is basically a hard drive which is reachable through your network, like a cloud-service which is only reachable in the building where the "box" is placed. I got this model*
and it's placed in a building far away from my home since I think it's good to have the backups at different locations. It is possible to "open up" the access so you can reach the photos from anywhere in the world but that also increases the risk of hacking.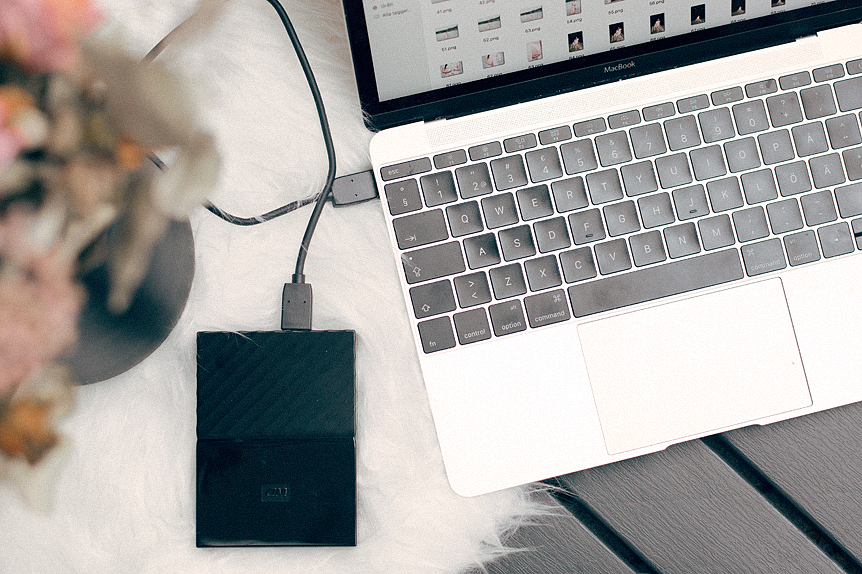 As you can see, I always have three versions of all my photos from when I got my first camera in 2003 until now in three different devices in two different locations.
I have to say that I'm bad at backing up my photos straight away, sometimes they stay on the memory card or on the computer for some time but I try to back up at least like 4-5 times a year at all the three devices. The backups often happen after something special, like a wedding or a trip abroad because that's probably when I get reminded of how important it is to save those memories.
Some things to think about when you back up your photos:
● Never keep them long term on a computer since they take up much space and will eventually slow down your computer.
● Never keep them long term on your cameras memory card since the camera can get stolen/broken/lost. They also take up space which could have been used for new photos instead.
● Always have your photos backed up at at least two different devices.
● Think after one or two more times before you back up your photos on an open cloud-service. It's way easier to hack "the cloud" than the hard drive under your bed.
● Keep your two backups at two different locations, maybe have one at work or a friends house? That way your photos will be safe even if your house burns down.
How do you back up your photos?
*Affiliate links
Read More on How to Photograph
At the Beach – In the Cold Winter – While Traveling – With a Smartphone