The excursion to Auschwitz in this post is sponsored by EnjoyPolen.com
DAY 3
Our third day in Kraków was going to be the most emotional one since we were going to Auschwitz. We got the opportunity to go there with a Swedish speaking guide from EnjoyPolen which were really great since nothing got lost in translation. We got off the bus and got informed where the bathroom was and where we could buy drinks, had a 15-minute break and then walked through a security checkpoint and on the other side was the "Arbeit Macht Frei"-sign. Incredibly surreal in every sort of way. You've heard so much about Auschwitz and seen so many photos, and then you walk from this really touristy area and out of a sudden are standing under that famous sign.
This was Auschwitz I and it has been transformed into a museum which tells the story of what had happened there. You have probably heard about the rooms filled with shoes and hairs from the victims and it was so surreal seeing it in real life. I'm going to write more details about Auschwitz in a later post, but the thing that really hit me the hardest with our visit was when we got to get inside the only remaining gas chamber. I felt so sick when we got inside, and so relieved when we got to go out again with the thought "We got to get out from a gas chamber alive. Most people didn't".
After walking around in Auschwitz I, we got on the bus again and drove to Auschwitz II Birkenau which is about a 5-minute ride away. Here's the Gate of Death that "welcomed" all the prisoners when they first arrived at Auschwitz.
This area is way bigger than I thought it was going to be, but most of it is gone now. Most of the buildings were destroyed by the Nazis at the end of the war to hide evidence of what had happened there, but some buildings remain. We got to visit one of the barracks where the prisoners slept (5 people per shelf which means that 120 people slept on the "beds" only pictured in the photo below) and one where they got to go to the toilet. The prisoners only got to visit the toilet once in the morning and once in the evening, and if they tried to go during the workday they got punished. The ones in charge of emptying the toilets were often highly educated men, like professors and doctors, just to embarrass them. Everything at Auschwitz was so elaborated evil and the prisoners were never treated as humans.
How do you even get back to reality after experiencing such a horrible place as Auschwitz? I'm not sure, but we decided to go and get some ice cream-filled waffles at a place called Bubble Waffle. Such a cute little café and something sweet really helped to cheer us up.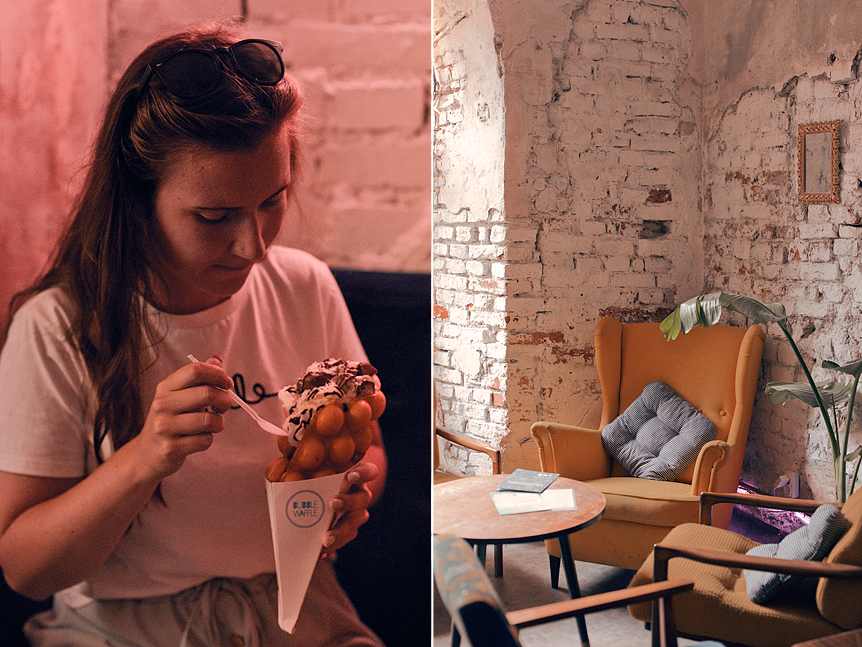 After we had our bubble waffles, it started to rain like crazy so we decided to walk to the street Grodzká (which we had visited our first day) to look in some stores while waiting for the rain to pass.
We decided to have dinner at one of the many restaurants at the square Rynek Główny when the sun was back and I had pierogi for the third evening in a row. What can I say, I was obsessed, haha! I had read somewhere the night before that it's possible to visit the tower of Bazylika Mariacka (St. Mary's Church) and thought it would be perfect to watch the sunset from there, but apparently it had closed for the day just half an hour before we got there so instead we head back to our hotel to spend the evening there, resting our feet and trying to take in everything we had seen and heard at Auschwitz.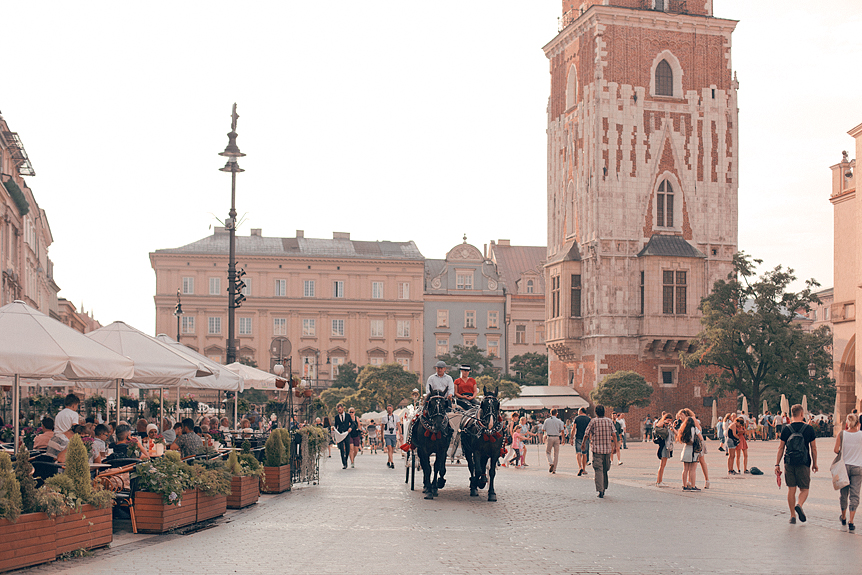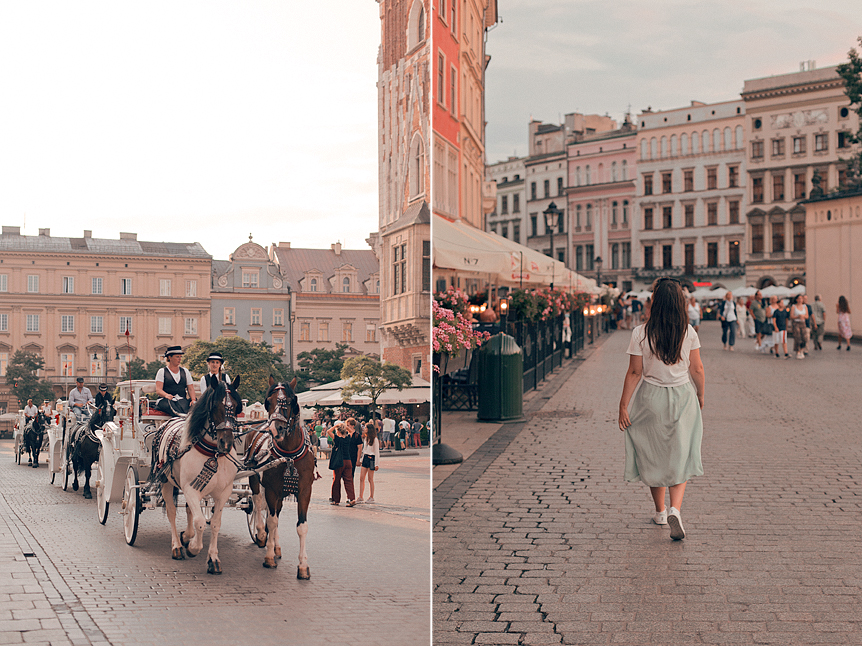 Read more from Kraków
Travel Diary Day 1 – Travel Diary Day 2 – Sharing Photos from Auschwitz