Let's take a break from those heavy Auschwitz-posts by take a look at my second trip to Gotland this summer!
During the first trip, I went there to have a vacation with my family and to compete in the Swedish Championship in varpa. That time we drove around pretty much the whole island, but this time it was completely different.
This time I went there with my two friends Mimmi and Madeleine and we only stayed in Visby to be a part of Medeltidsveckan, the medieval week that takes place at Gotland every summer. I love history, Gotland and dressing up and have wanted to visit Medletidsveckan for many years and this year was the first time I had the opportunity to go! We got to spend 3 days in medieval Visby and let's start by looking at the first one.
DAY 1
We arrived at Visby by boat in the morning of August 6 and had some lunch at my favorite restaurant Visby Creperie & Logi before we met up with our Airbnb host and got the keys to our apartment. We had no time to waste and changed into our medieval dresses immediately and headed out on the streets of Visby.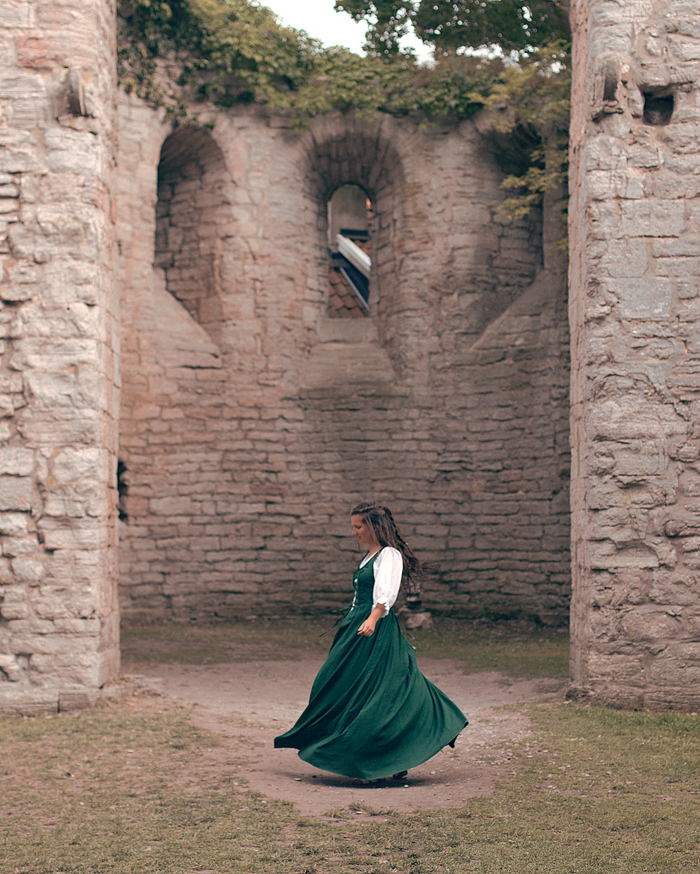 There was a big medieval market area in the Botanic Gardens where we spent a couple of hours. It was so much fun walking around there, looking at all the cool things in the market stalls and checking out the outfits of everyone who was there. I totally got inspired to sew my own medieval dress when I saw all the beautiful fabrics but then I remembered that I'm horrible at sewing, haha.
Side note: I totally hated all the "muggles" who weren't wearing medieval outfits and totally ruined all my photos, haha!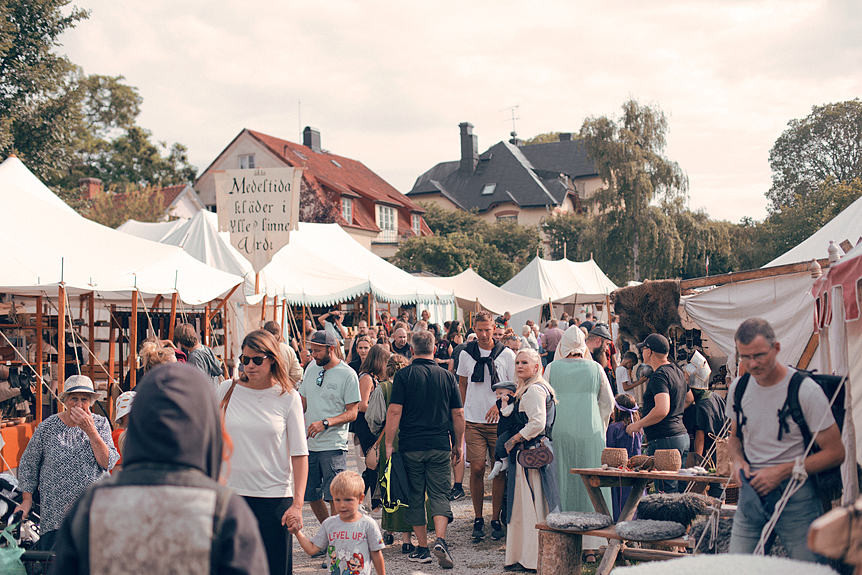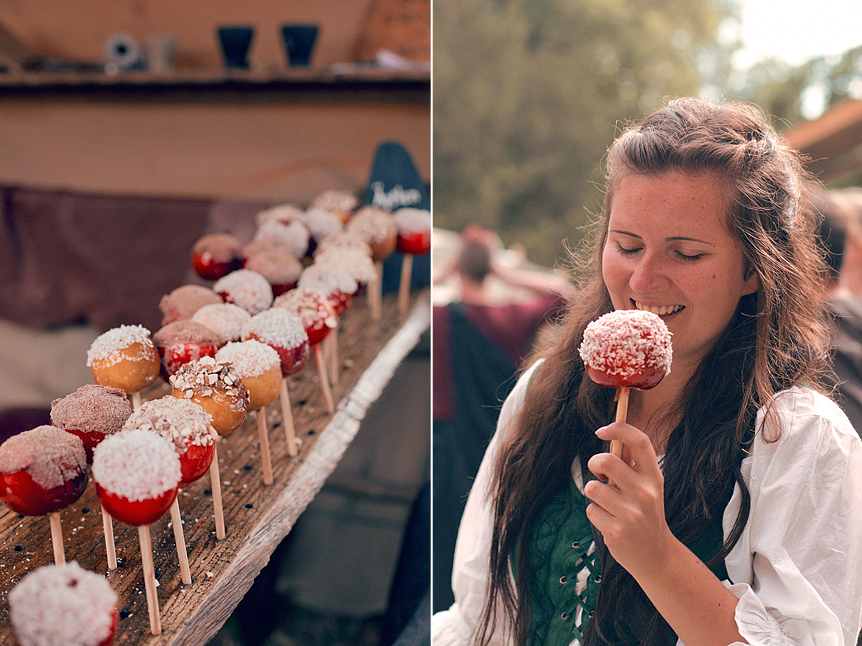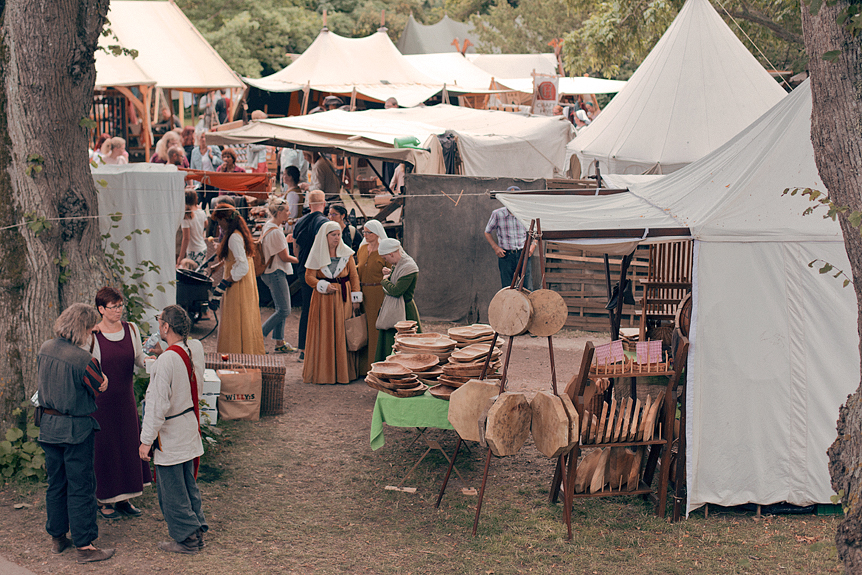 We had read that Kapitelhusgården is the place to be during Medeltidsveckan so we headed over there to get some dinner. It turned out that it was just as popular as it had been described and they didn't have any tables until 4 hours later, but as we were standing there, they got a cancellation so we could book a table only one hour later instead. Score!
During that hour, we decided to hit some of the cute, narrow streets in Visby filled with flowers like Fiskargränd and Specksgränd to do some sort of photoshoot there. I've said it about a million times before, but Visby is the most beautiful city in the world.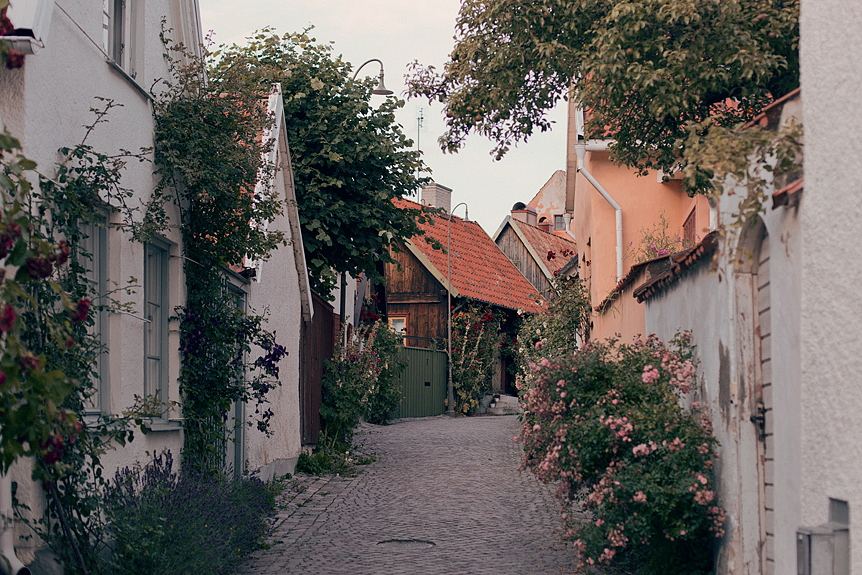 We headed back to Kapitelhusgården in time for our table reservation and I felt so bad for the staff since they were so understaffed that evening. They were out of cutlery and we waited for almost two hours to get our food. But honestly, we had such a great time anyway with only candles as our source of light and I enjoyed eating with my hands a little more than I probably should have, haha. I had a vegetarian platter, an elderberry cheesecake for dessert and lots and lots of non-alcoholic mead.
Such a great first day at Medeltidsveckan!