This post contains affiliate links


Autumn is in the air and my body screams at me to go out and hike at every possible occasion.
This is actually quite an unusual feeling for me. Since I hate being cold, autumn usually means indoors Netflix-marathons wrapped in a blanket with a lot of tea for me, but after I started hiking regularly about a year and a half ago I much rather go outside. It's funny how a person can go from thinking "What is the fun in walking around in the woods with a backpack all day?" to spend hours and hours checking trails I want to hike and gear I want to own. Being outdoors is great for both body and brain and with this post, I hope to inspire those of you who are where I was one and a half year ago to go outside and explore. Welcome to the beginner's guide to hiking!
What is hiking?
I thought it would be good to start with some kind of definition of what hiking is. Some might argue that you need certain elevation change in your hike or be outside for at least a certain amount of time but I'm not that kind of person. I would like to define hiking as "exploring by foot on the actual ground without any manmade foundation". Basically, are you walking around on grass, dirt or stones – you're hiking!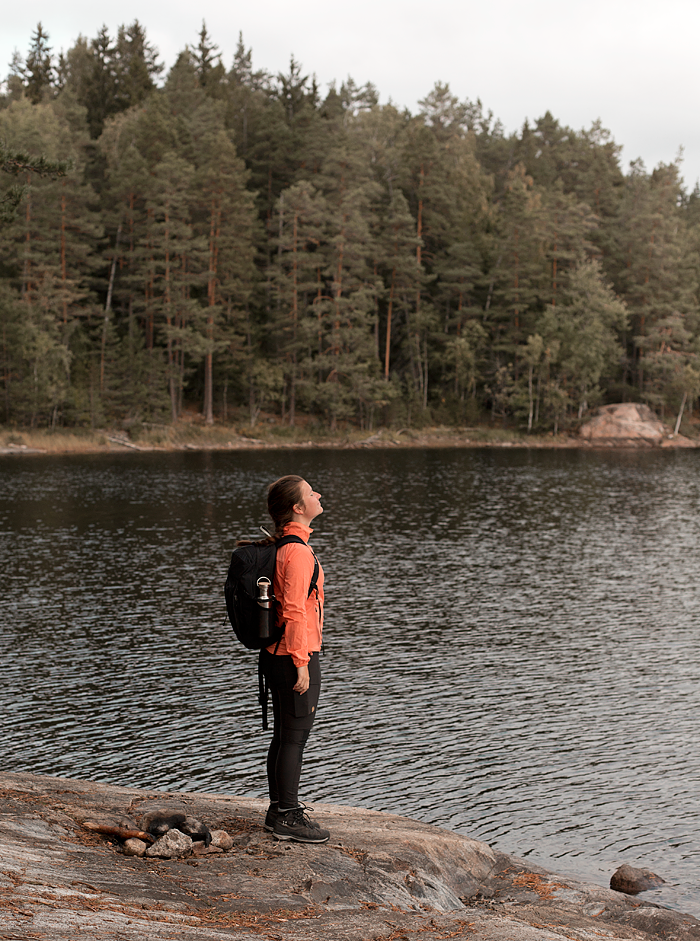 Why should I hike?
↠ Hiking has great benefits for your body, both mentally and physically
↠ Hiking requires next to nothing to get started
↠ Hiking is free
↠ Hiking is an amazing way to leave the couch and explore your surroundings
↠ Hiking is a great bonding activity with friends and family
↠ Hiking is a fun cardio activity where you honestly don't even notice that you're exercising
↠ Hiking is a great reminder that the world is quite amazing
How do I start hiking?
Easy, put some shoes on and go out and explore! You can hike by taking a quick jaunt at your lunch break in your local park or gather some friends and food and take a full day on a beautiful nature trail. Just go outside and do something you wouldn't do otherwise and you're on your way to become a "real" hiker. It's not that hard to get started as long as you get rid of all of those "but and if's" in your brain.
How do I find a good hiking spot?
Take out your smartphone and open your preferred app for maps and find an area close to you that is green. We in the hiking business call those areas for "nature" and those are great for hiking in! If you're like me and look for an esthetical looking hiking ground (for Instagram photos, duh), just have a look at the name of that green area and Google it to find pictures from others who have hiked there and see if it's something for you.
1. Lunchbox* 2. Mittens* 3. Hiking boots* 4. Camping mug* 5. Beanie*
What should wear?
Depending on the terrain you could probably do a hike wearing flipflops so don't let your lack of expensive hiking gear stop you for going out on a hike! Use common sense when you decide what to wear on a hiking trip – If it's sunny, wear a hat and sunscreen, if it's raining wear a waterproof jacket and shoes where your feet won't get wet.

Once you build up the habit of hiking and decide to make it a bigger part of your life, you can make some investments. Even though proper hiking boots have ankle support and give more protection than a pair of sneakers, buying them as a newbie can be extremely useless if you only hike once or twice. So wear what you feel comfortable in on your first hike and learn what works and what doesn't.
What should I eat?
If you're a beginner to hiking (which I assume as you're reading this post) your first hike should probably not be a full day where you have to carry around a tent and a portable stove. Make sure you eat some good and steady food before you depart and bring some snacks and you're good to go!
Some great snacks to bring on a hike are:
↠ Nuts – especially almonds and walnuts.
↠ Fruit – throw in an apple or two, they can give a quick energy boost when you need it the most.
↠ Homemade granola bars – please, can we all just stop buying these "healthy" power bars? It's really easy to make your own and avoid a lot of sugar and preservatives.
Make sure to also bring enough water, the guideline is that you should drink 1 litre of water every two hours.
Except for the basics we already covered, what else should I bring?
↠ Extra socks, it really sucks to walk around in wet socks.
↠ A waterproof pack bag/dry sack that will keep your valuables and extra clothes dry even if you end up falling into a lake.
↠ Powerbank since you often use your smartphone both as camera, compass, map and communication with the rest of the world.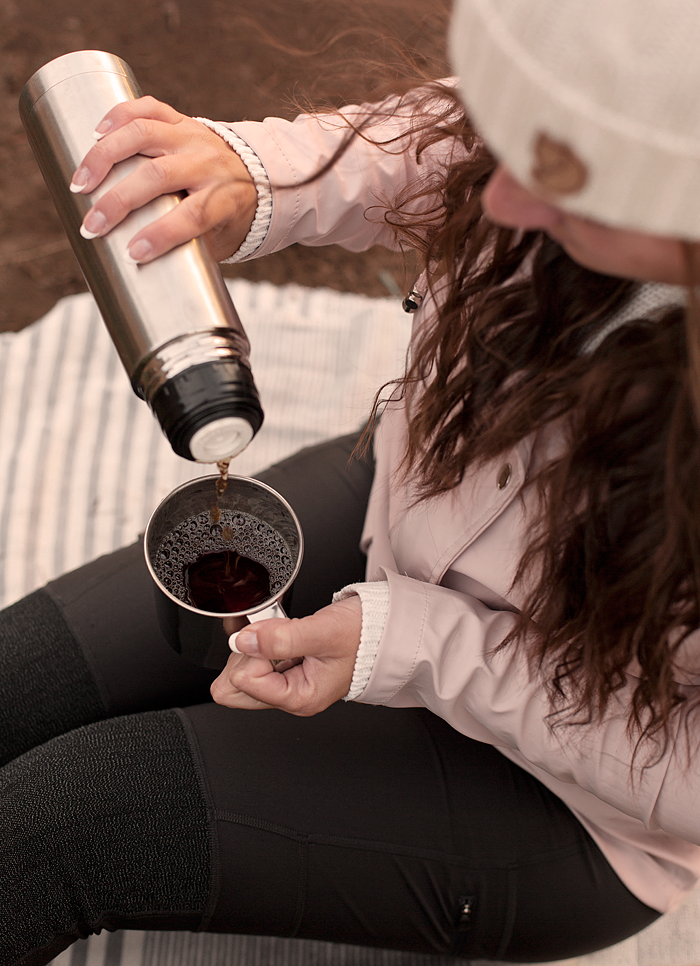 How do I plan my first hiking trip?
As I've tried to explain with this post, hiking doesn't have to be a big project that requires a lot of preparation! Hiking can be:
↠ A quick jaunt at your lunch break in your local park
↠ Exploring the woods outside your house in the afternoon
↠ A half-day with your friends on a beautiful nature trail
↠ A full day or overnight with camping in a tent
Go outside and explore on your own level. Sending yourself out on a ten-hour hike off-road into the wilderness as a first hike is incredibly unintelligent. Start slow and increase the length and difficulty every time. It's way better to come home and think "wow, that was easier than I thought" than being six hours from home with zero energy left.
Any last things I should think of before I head out?
↠ Always bring water no matter what. This should always be your prio one.
↠ Always make sure someone knows that your out hiking and when you estimate to be back.
↠ Always bring the power bank! You do not want to be standing in the middle of the woods with a dead phone so make sure you bring that power bank.
↠ Enjoy this beautiful planet we live on.
↠ Comment this post if ou learned something new and would like more hiking guides.
*Affiliate links